How Much Will 4/20 Increase my Sales?
Apr 03, 2017
As we all know, April 20th is a special holiday in the marijuana industry. For store owners, it's Christmas and the 4th of July and New Year's rolled up in one giant blaze of retail glory.
How big is the impact on sales, specifically? How much inventory should your store plan to stock? To answer these questions, let's look at what happened last year. For each store in the state, we looked at the sales on 4/20 compared to the average daily sales for the rest of the month of April. Because 4/20/2016 was a Wednesday and 4/20/2017 falls on a Thursday, we think it is reasonable to predict 2017 sales increases based on 2016 behavior without correcting for day-of-week effects.
Overall, in 2016 the average store had sales increase by 60% on 4/20. Results vary tremendously by location, however. Compare the average store's sales in the 5 most populous counties:
King County (includes Seattle) average store sales increased from $9.4k to $13.6k on April 20, a +43% boost. As a side note, the average store sales in King County is low due to the number of smaller stores which entered the market. Spokane County average store sales increased from $11.3k to $22.1k, a whopping +96% increase. Clark County (includes Vancouver) saw a similar spike (+76%). We speculate that Clark county might not see such a significant increase this year given that the spread of legalization in Oregon will suppress some demand.
In terms of what goods are sold, flower remains king; but the biggest increase by percent is pre-rolls (+82%) followed by concentrates (+72%). Intuitively, the preroll increase makes sense given that 4/20 is often celebrated socially with the passing of a joint.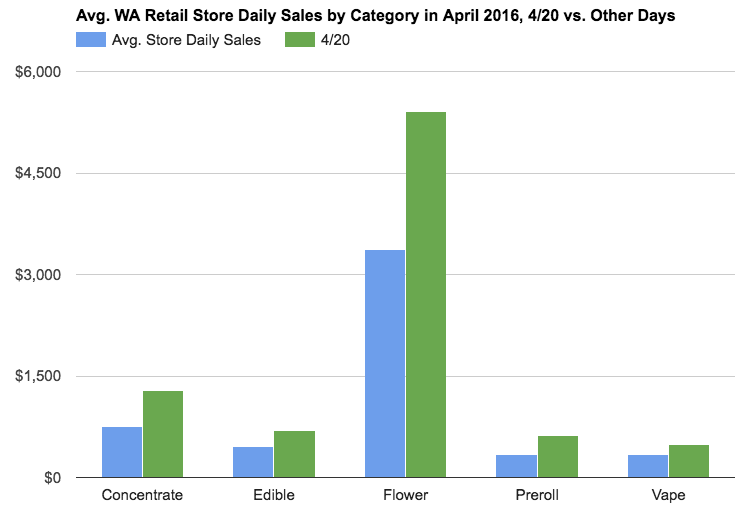 If you're a retailer and want to plan your 4/20 inventory in more detail, we've made a full data set available here.
(As a follow-up clarification: this post takes a per-store perspective, so when we compare two stores - say, a very big one and a very small one - they are weighted equally. If you are interested in the statewide sales impact of 420, please see Jim MacRae's excellent blog post.)